2017 Film Festival Winner
Last year, Ashley Winter entered the inaugural NKCF Film Festival. In his film, he urged viewers to, "get up and get out" and not let KC stop them.
This year, he upped the challenge, proving KC is not a barrier to achieving his goals. His video was filmed on a 10 day dog-sled expedition in the Artic. Ash said of the journey, "Great for testing not only my own fortitude but also my contact lenses!"
Read more about Ash and view his video here.
Dropping Out of Contact Lenses?
Some eye doctors claim to get a gut feeling about which contact lens patients will be 'lost to follow-up'.
Professionals who spend their days providing contact lens related eyecare note that some patients come for an initial fitting and are never seen again. Dr. Cory Collier, OD, FAAO, FSLS, of Lakeland Ranch, FL tells us what doctors know about patients who drop out. Read here.
Is Eye Rubbing Cause of KC?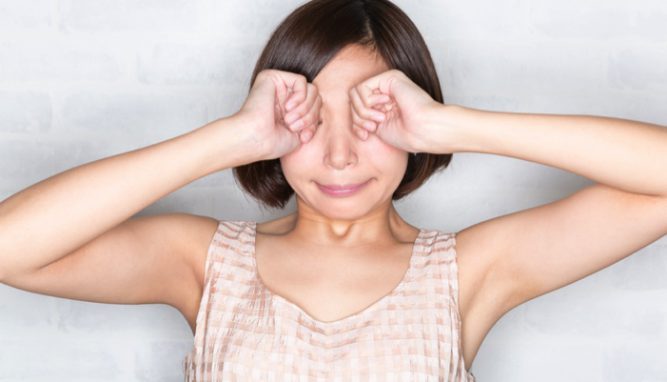 Whether eye rubbing causes structural changes to the cornea, as argued by Dr. Damien Gatinel, MD of Paris, or whether is is a contributory factor that makes already vulnerable corneas weaker, like Dr. Francis Price, MD of Indianapolis and Dr. Stephanie Campbell, OD of the UK propose, all agree it an activity that KC patients should avoid.
To read more, and to tell us your own opinion about eye rubbing and
KC, click here.
The Case of the Missing Lens(es)
Q) What this is?
A) Several disposable contact lenses left
under an eyelid for years.
Dr. Casey Claypool, OD of Empire Eye Physicians reveals
some special concerns that KC patients have with their
contact lenses. Read more here.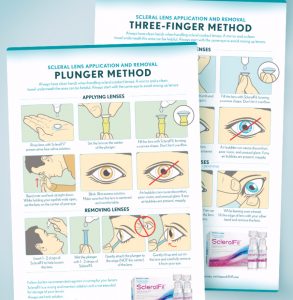 Our friends at Bausch + Lomb have printed a helpful two-page instructional card on the application and removal of scleral lenses. These lenses, especially beneficial for hard-to-fit keratoconus patients, require special handling.
B + L is the maker of ScleralFil, a preservative free saline solution that is recommended by many eye doctors for inserting and rinsing scleral lenses.
This tip sheet is designed to remind patients of the key steps involved in the 'plunger' or the 'three finger' technique. Always rely on your doctor's advice and use these guides as a complement to instructions you've been given. Ask your eyecare professional for a copy of this poster, or download your own copy at www.bausch.com/scleralfil.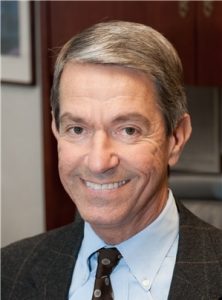 Even if you don't live in the New York metropolitan area, you can benefit from one of the country's experts on keratoconus. Dr. Peter Hersh, MD has launched a video blog and has uploaded a number of short videos. He has a calm
and reassuring voice, and provides Powerpoint slides to help illustrate his
talks. The subject matter is dense, and he offers convincing scientific support. Dr. Hersh was named the Top Doc in 2017 by the National Keratoconus Foundation; his Center for Keratoconus is part of the Cornea & Laser Eye Institute in Teaneck, NJ.
To visit his YouTube channel for in-depth and scholarly views on all
things keratoconus, click here.
If you prefer to send a check, payable to UCI Foundation
to support NKCF, please mail it to:
NKCF – GHEI
850 Health Sciences Rd, 3rd Floor
Irvine, CA 92697
From The Director
Telling the Story to Congress!
The Association for Eye and Vision Research (AEVR) is a Washington-based organization that advocates for increased funding for the National Eye Institute and other visionrelated research. In connection with World KC Day, AEVR will be hosting a congressional briefing on Keratoconus. This is the first time in memory that staffs of Senate and House members will learn firsthand about this disease. An NIH-funded scientist investigating the link between hormones and KC will speak about his research; a patient representative will tell her story; and NKCF will offer an overview of the challenges that individuals with KC face. We are honored to be included in this panel, and happy to be raising awareness on Capitol Hill!
What will you do to spread the word on World KC Day?
Want the latest news & Research About Keratoconus?
Sign-Up For Our Newsletter